To receive the latest news updates from Convergent, please subscribe to our mailing list.
SUBSCRIBE
Recent news from Convergent:
COHO Portable Suitcase Upgrades and Reduced Pricing
(

Monday, January 26, 2015

)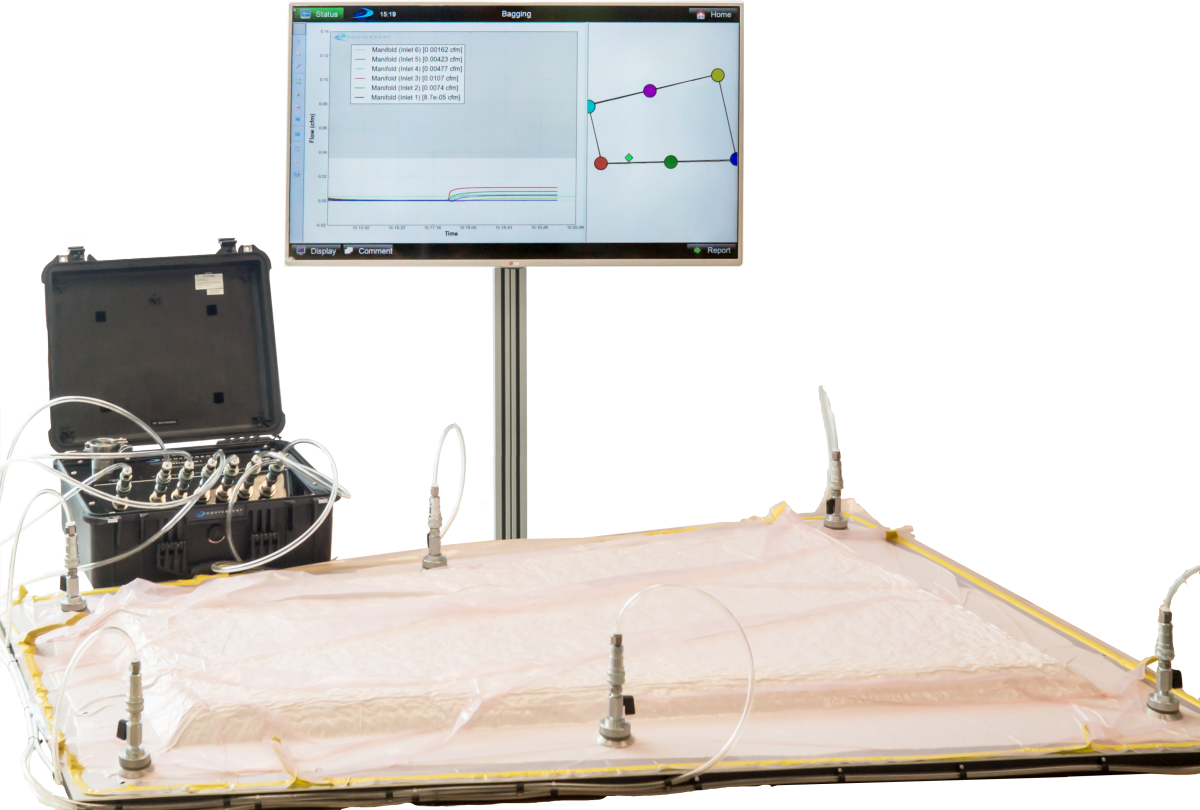 Convergent is happy to announce the release of our upgraded Portable Suitcase (600 series), as well as reduced pricing for all models. The 600 series now has two stock models: the Standard Suitcase and the Premium Suitcase. Both models have the same resolution and 6 vacuum channel capacity as our original model.
The Standard model lowers the cost of entry to leak localization by 50% as compared to our original Suitcase. As in all of our COHO units, the user can identify and locate leaks in real-time. This Standard Suitcase uses a software mode best implemented in engineering and R&D settings, with advanced functionalities available as add-on features upon customer request.
Our Premium model is equivalent in features as compared to the original Suitcase. In addition to what is offered in the Standard model, the Premium COHO Suitcase is designed to allow customization of the software user interface to suit operators in production settings. The Premium model is capable of supporting 12 vacuum lines when linked with another COHO Suitcase when both suitcases have the daisy chain add-on. This enhances the functionality of a COHO suitcase to be able to locate leaks on larger parts by increasing data resolution. This model includes the Flow Standard Tool, Mobile Display Client, and on-site commissioning including 1 day of training.
The 800 series Semi-Permanent Cart model comes stock with twelve vacuum ports at a price reduction as compared to the original model. In addition to the functionality of the COHO Suitcases, the Cart provides higher flow capacity, user serviceable filters, both the Standard and Factory software packages, control valves for ease of validation testing, and is capable of supporting add-on sensors and a maximum of 24 vacuum lines, among other features.
Click here for an explanation of the differences between all COHO models. For inquiries and quotation requests please email sales@convergent.ca.
Official Release of COMPRO Plug-in for ABAQUS
(

Wednesday, October 1, 2014

)
Convergent is excited to announce the official release of our COMPRO Plug-in for ABAQUS! This new version of our classic COMPRO software allows users to save ample set-up time by standardizing and automating the process. Errors are minimized and the user is guided through the set-up with Convergent Best Practices for composites processing simulations in the ABAQUS environment. See our Products section to see it in action!
Convergent to Exhibit in the Dassault Systèmes Booth at CAMX
(

Monday, September 29, 2014

)
Convergent invites you to visit us at the 

CAMX

 show from October 14-16, 2014. We are proud to once again be exhibiting our software solutions with Dassault Systèmes, this time at the Orange County Convention Center in booth #2080. Come learn how our newest release, the COMPRO plug-in to ABAQUS, can help solve complex distortion problems and develop robust manufacturing processes.
Dr. Poursartip awarded the ASTM International Wayne W. Stinchcomb Memorial Lecture and Award
(

Wednesday, September 17, 2014

)
Dr. Anoush Poursartip, Director of Research and Development at Convergent, has been awarded the ASTM International Wayne W. Stinchcomb Memorial Lecture and Award at the American Society for Composites 29th Technical Conference, 16th US-Japan Conference on Composite Materials and ASTM-D30 Meeting in his role as Director of the Composites Research Network. The meeting took place September 8-10, 2014 in San Diego, California, USA. This award is presented annually to recognize an individual who has made outstanding contributions to research, engineering, and teaching of composite material technology. At Convergent, we are delighted that Dr. Poursartip has continued to be recognized for his active influence in the academic community. To read the ASTM International News Release, click here.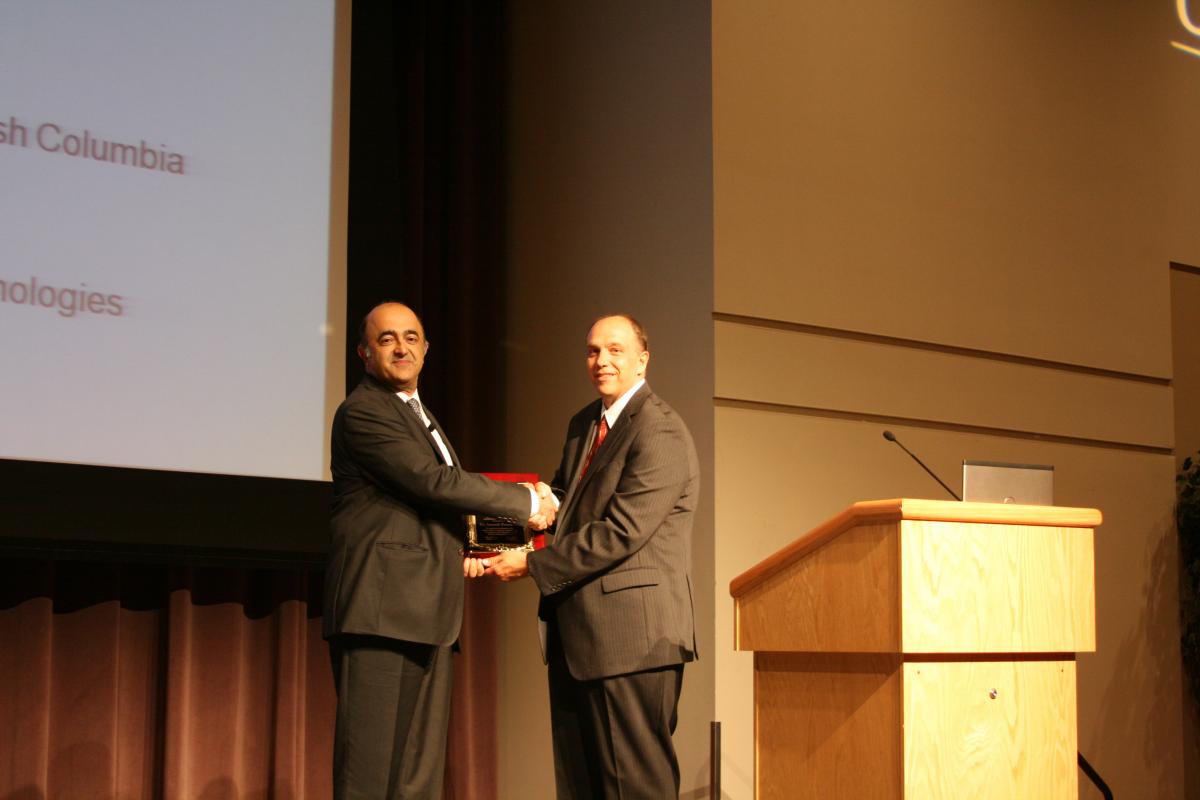 VARDEC announces its initial collaborative research project with NGRAIN and Convergent
(

Friday, August 8, 2014

)
"VARDEC is an industry-led research consortium initiated by The Boeing Company to continue its multi-year, active involvement in visual analytics research at Canadian universities and with Canadian industry. VARDEC industry members work with Canadian researchers to create visual analytics projects that will benefit VARDEC members, and thus accelerate the use of advanced analytics to benefit the Canadian economy.Two VARDEC members, NGRAIN and Convergent Manufacturing Technologies, are collaborating on an applied research project to improve awareness of real-time sensor data using 3D virtual and augmented techniques in composite manufacturing environments." -nGRAIN 
Read the complete article here.
COHO Gas Flow and Leak Detection Launch at SAMPE Seattle 2014
(

Friday, June 6, 2014

)
Convergent's gas flow and leak detection demonstrations using COHO 601, the suitcase model, generated a lot of excitement at SAMPE Seattle 2014. We are proud that COHO was so enthusiastically coveted by SAMPE attendees, and had a lot of fun unveiling the technology. Convergent is delighted to have made such an engaging impact at the show and to have met as many new people as we did, and we look forward to continuing conversations around all of the excitement our COHO hardware generated.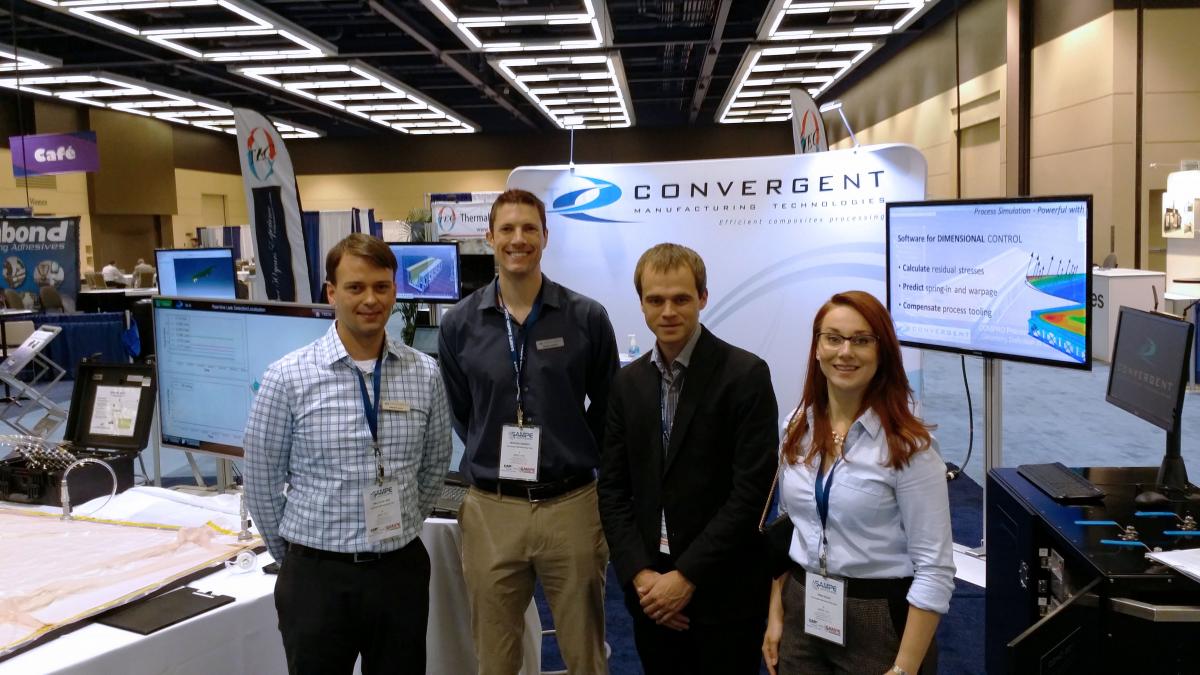 Successful Exhibition at JEC Europe 2014, Looking Forward to SAMPE Seattle 2014
(

Thursday, March 20, 2014

)
JEC Europe 2014 was a fulfilling and exciting experience for Convergent Manufacturing Technologies. Acting as a solution provider to Dassault Systèmes, the exhibition was highly successful. Working together with such a dynamic team, it was delightful to forge new colleague relationships, greet old customers, and establish new prospects.
We look forward to all of those we will have the opportunity to meet with again at SAMPE Seattle 2014.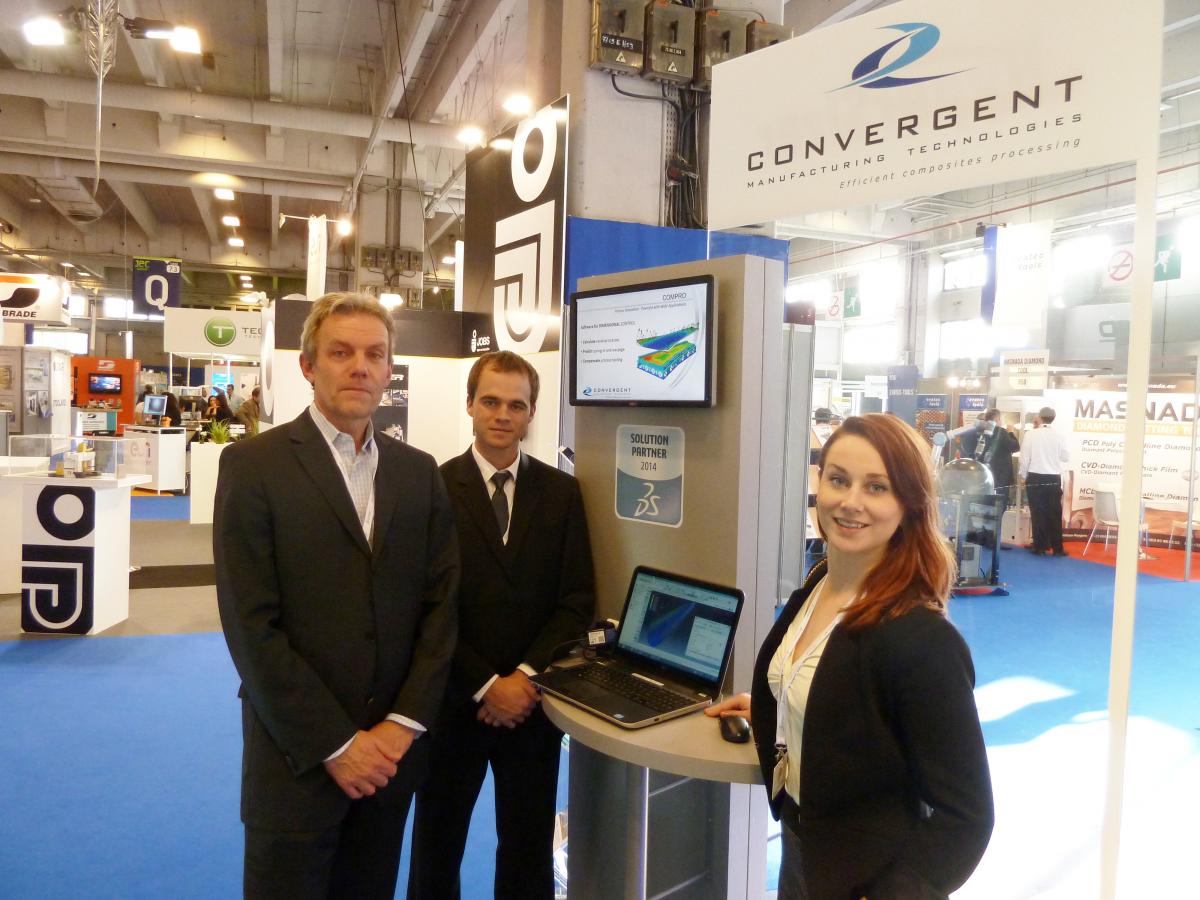 Convergent to Exhibit in the Dassault Systèmes Booth at JEC Europe 2014
(

Thursday, March 6, 2014

)
Please visit Convergent at JEC Europe 2014 in Paris, France to experience our simulation software in action.  You will find us in the Dassault Systèmes booth, #Q48 in Hall 7.3.
| | |
| --- | --- |
| Come see how our COMPRO software interoperates with CATIA V5 and ABAQUS to help you develop robust processes and mitigate spring-in effects, so that your as-manufactured parts satisfy dimensional tolerances and other engineering specifications. | |
Director of Research and Development Attended the 2014 Tabling of the Federal Budget
(

Monday, February 17, 2014

)
Dr. Anoush Poursartip, Director of Research and Development at Convergent was recently invited to the tabling of Budget 2014 in the House of Commons, Parliament Hill on Tuesday, February 11th, 2014, in his role as Director of the Composites Research Network.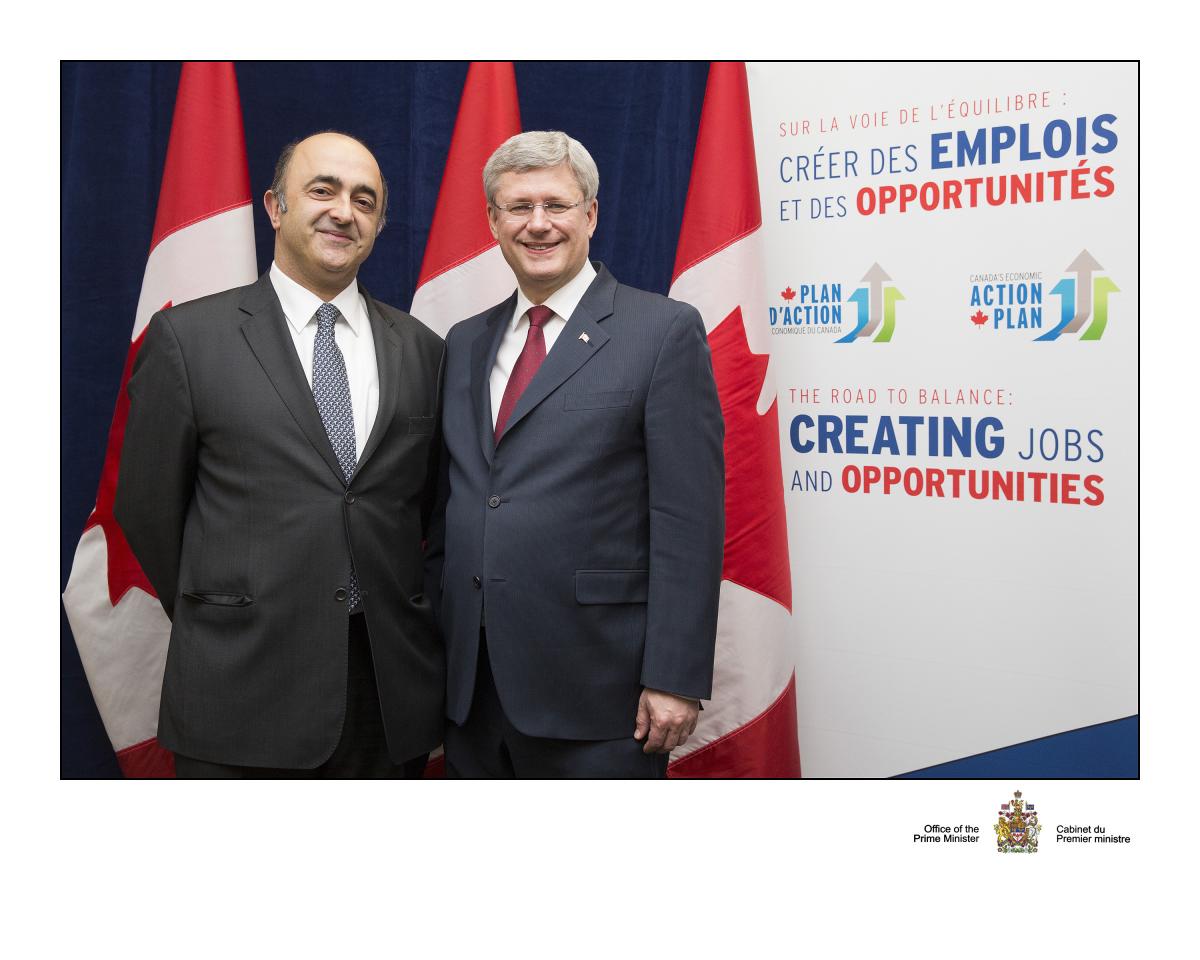 Visual Analytics
(

Tuesday, November 12, 2013

)
Convergent joins VARDEC, a visual analytics consortium lead by MITACS and The Boeing Company.
Convergent believes that visual analytics shortly will become a useful and powerful tool for visualization and interpretation of the large amounts of data generated through simulations or data gathering in the factory.
Pages