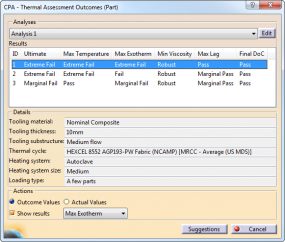 CPA-TA Simulation Software (Beta)
Composites Producibility Assessment - Thermal Assessment Plug-in to CATIA
Easy-to-use software for simulation of composites producibility.
Quickly identify potential thermal and cure issues before designing tooling.
Customize using your processes, tooling, materials, and autoclaves and ovens.
Uses the power of RAVEN process simulation software and material files
Make your processes more efficient.
Quickly evaluate designs for producibility with company-standard equipment and processes.
Validate against cure cycle specifications and best practices before submission without the need to check in with materials specialists*.
Identify trouble spots in the layup to minimize unforeseen redesign, the amount of testing and trial-and-error, and in effect save time and cost.
Reduces iteration in design between design engineers and M&P department
Allows quick analysis for design changes such as manufacturing results from alternative tooling types
*Materials specialists must first set up the company-standard parameters in CPA-TA
The CPA-TA (Composites Producibility Assessment – Thermal Assessment) plug-in is used to identify locations where your part may have thermal issues during manufacture.
To use CPA-TA you need a license and working knowledge of CATIA, as well as a RAVEN license. The general workflow to set up and run a CPA-TA:
Input company-specific process specifications, material specifications, company practices, etc. This step should be done by a materials specialist and only has to be done once.
Define geometry,
Select geometry for analysis,
Review/ verify M&P spec settings,
Define manufacturing parameters,
Run, or auto call pre-run results,
Assess results
Redesign or optimize your processing parameters accordingly.
CPA-TA is an integration for CATIA Composites Workbench.
The Composites Producibility Assessment - Thermal Assessment tool is a CATIA plug-in.
CPA-TA has moderate requirements on computational resources.
CPA-TA runs under Microsoft Windows and performs well on nearly any computer that is less than five years old.
A minimum of 2GB of RAM is recommended for a good user experience.
It requires:
CATIA Composites Workbench (CPD,

or

  HD2 + CPE,

or

HD2 + CPM)
RAVEN process simulation software
Process specifications, material specifications, company practices, etc.
Customized inputs to reflect company practices
Initial setup by a materials and process engineer